Beloved for their cozy, homey feel and thoughtful yet refreshingly simple detailing, Craftsman homes are common throughout most regions of country, from California to the Midwest. This distinctly American house style emerged from the mid-19th century Arts and Crafts movement as a reaction excesses of the Industrial Revolution and a precursor to Modernism. Most Craftsman homes in the U.S. were built between 1900 and 1940, though this historical style is often emulated in newer remodeling and construction projects.
Traditional Craftsman house features
With straightforward layouts and honest and often exposed structural systems, Craftsman style houses feature welcoming, front-facing gabled roofs, generous porches and large windows that let in lots of light and foster an indoor-outdoor connection. The interior spaces and details are designed to relate to the human scale, such as generous cased openings, built ins, tapered columns and leaded glass windows.

Focus on wood and natural materials
One of the most appealing features of Craftsman homes is the extensive use of natural materials, including wood trim, plentiful built-in millwork and stone pavers. Millwork elements can serve as dividers between living and dining areas and also flank living room fireplaces, providing a place for everything. Natural wood flooring and trim abounds, from baseboards to crown molding, adding warmth, character and consistency throughout the home. On the exterior, barge rafters at the edges of gables, brackets and trellises are all markers of traditional Craftsman style. Many Craftsman houses also feature extensive natural stone in the form of floor pavers on both the interior and exterior.

Layouts and floor plans for Craftsmans
Whether you own a home that was built as a traditional Craftsman or another style such as a ranch house, it can be adapted to a Craftsman-style layout that is well-suited to the modern lifestyle. Craftsman floor plans feature open layouts with well-proportioned spaces. Often living, dining and other public areas occupy dedicated spaces but open into one another via generous cased openings, sometimes with pocket doors. In most Craftsman house plans, space is efficiently utilized and has a natural flow, avoiding too much separate circulation space or other wasted square footage.

Renovating a traditional Craftsman home
We've completed a variety of renovations to original Craftsman homes that focused on repairing and preserving historic features while upgrading and modernizing building systems. In Alameda, California, Grand Prairie-Craftsman is one of the city's most iconic houses, mixing Prairie and Craftsman styles. We were engaged by the clients to reimagine their home with a light touch; we made only minor modifications to the floor plan to meet the family's needs while working closely with the builder to refurbish and replicate the home's original woodwork.
Other often-requested upgrades to traditional Craftsman homes involve renovating the kitchens and baths. We prefer using subtle color palettes and echoing traditional details such as built ins to make these modern interventions feel intentional and consistent with the existing home.


Fostering an indoor-outdoor connection
While Craftsmans typical feature a strong relationship between the indoors and outdoors, there are always opportunities to strengthen the connection. Another of our clients tasked us with updating a classic two-story 1907 Craftsman home to prepare it for resale and optimize its value, all within a reasonable budget. New French doors open from the kitchen onto new bi- level deck that serves as a functional outdoor living space with access to a garden, while another set of French doors open from an upstairs bedroom onto a private high deck overlooking the garden. We also provided the future owner with house plans showing design possibilities for an addition with a master suite.

Constructing a contemporary addition to a Craftsman house
Historical Craftsman houses are known for their functional layouts, but many modern homeowners could use some additional space. In one case, owners of a 1907 brown shingle Arts and Crafts home approached us as they faced significant dry-rot damage, and a 1970s addition required extensive repair. We proposed a design that brings harmony between the new spaces, the original house and the mismatched previous addition. We added a deck and two home offices.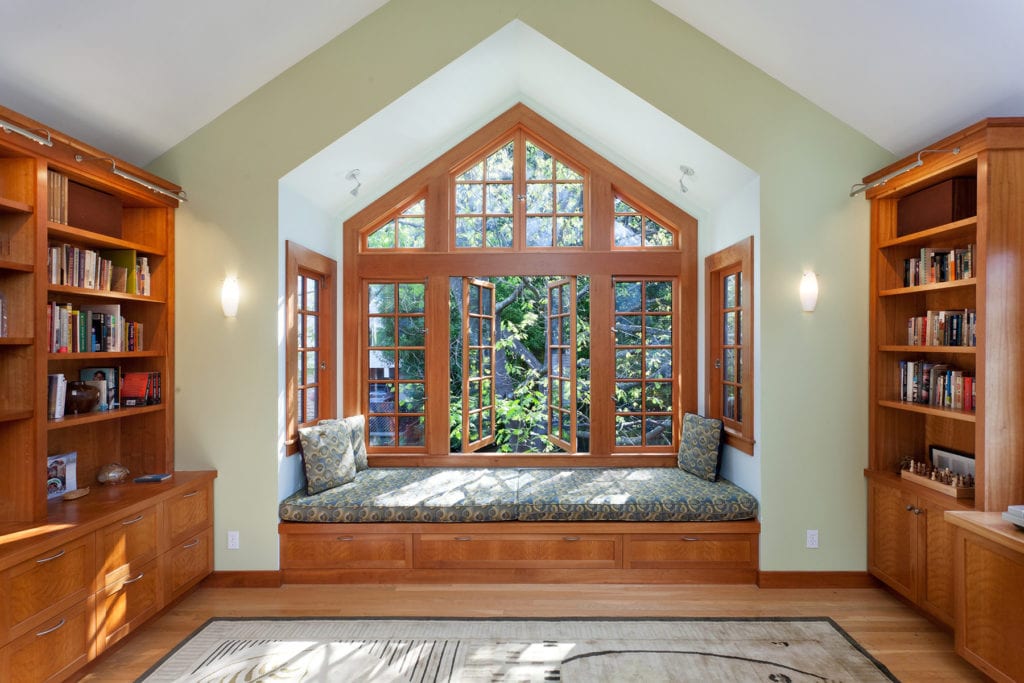 Another common addition type for a Craftsman home is a new master suite. In our work we strive to make these additions feel seamless with the existing house, matching new details and scales of the rooms. Successful additions maximize interior space without detracting from the experience in the yard.
Transforming a bungalow into a modern Craftsman
Bungalows often feature Arts and Crafts style but tend to be on the smaller side, so many clients opt to upgrade them into modern Craftsman homes. In one instance, a small mid- century bungalow had undergone previous additions that resulted in a large but chaotic layout. The owners wanted us to renovate the house to be more efficient but capture that charming Craftsman style, all while providing space for their large family and work-at-home lifestyle.

We achieved this by relocating some walls and designing a small upstairs addition. Every square foot was optimized while minimizing the home's footprint and project costs. One focus was creating a large flow-through mudroom with storage for each family member, and adjacent laundry, making it easy for children to keep belongings organized and contribute to household chores.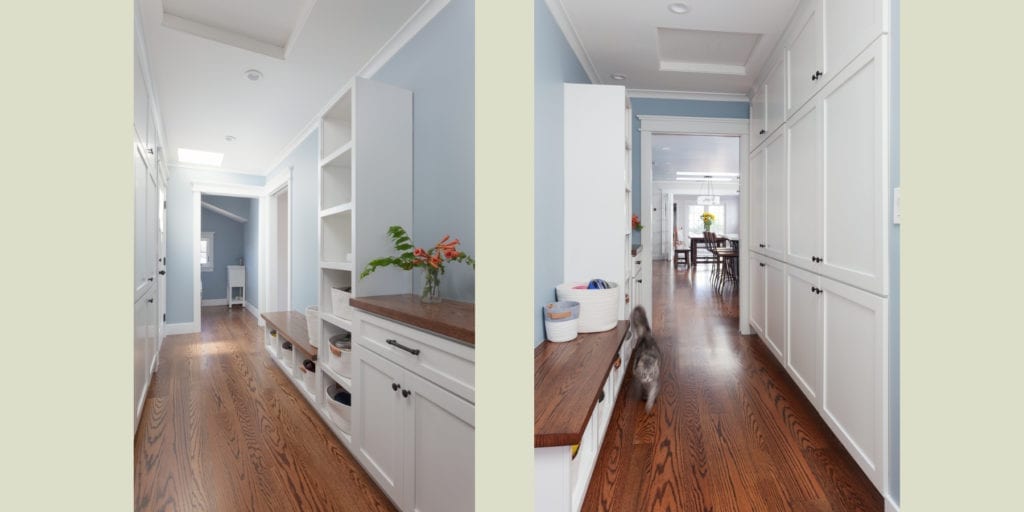 Converting a ranch house into a modern Craftsman
Ranch houses are a prevalent American housing style, and while some exude sleek midcentury modernism, others are plain and devoid of interest. Converting a lackluster ranch into a modern Craftsman can up both the character and functionality. We took one such ranch down to the studs and added a second-floor addition, making it into a light-filled contemporary home. Guided by the proportions and simplicity of traditional Craftsman homes, we added details such as shaped brackets, trellises, gabled roof ends, built-in window seats, and broad trim encircling rooms and openings to distinguish the new interior and exterior.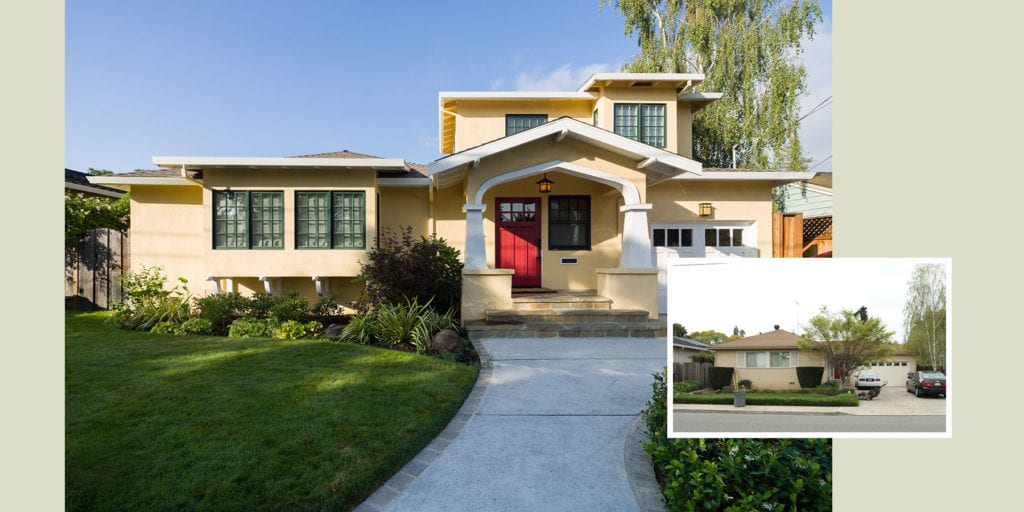 For another ranch house renovation, we added exterior wood trim to improve curb appeal, infuse character and make the home feel more inviting. This home also features a low-pitched roof that allowed for interior vaulted ceilings, as well as an open floor plan, all of which are desirable features for modern Craftsman-style homes.

Rebuilding a fire-damaged Craftsman house
A house fire can prove devastating, and particularly so for a historically significant property. Owners of a classic Craftsman bungalow that had been destroyed by a fire approached us to rebuild their home, and we turned tragedy into opportunity, all while navigating challenges from the insurance company and a complex approval process. We matched original details while modernizing the layout of the home, and we made the roof steeper to add a partial second floor with dormers. Key details of the original house that held emotional value for the owners were reproduced, including Art deco–inspired stucco forms on the exterior and unusual canted window and door trim throughout the interior.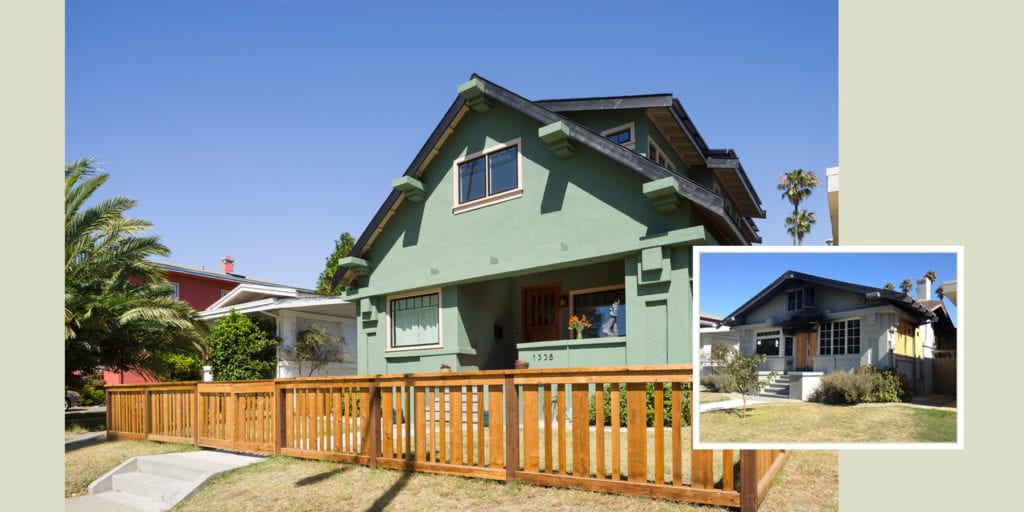 Best practices for sustainability and resiliency for Craftsman Homes
Renovating a Craftsman home involves a balance of historic preservation and maintaining character combined with consideration for sustainability and resiliency. Older homes typically aren't nearly as energy efficient as most modern homes, so upgrading building performance can go a long way in reducing energy use and costs.
Particularly in California and other wildfire-prone areas, fire resistance and air quality are top of mind for many Craftsman homeowners. Landscaping and paving must be considered when limiting susceptibly to fire, as well as building materials and methods. Air quality can be compromised by smoke, so air filters and energy recovery ventilators are becoming commonly requested features within our house renovation projects.
Ready to create your modern craftsman house? Contact us today.
Contact Saikley Architects