Open, light-filled spaces suited for entertaining
Ranch houses are beloved for their open, airy floor plans that cater to entertaining as easily as everyday family living. Typically single-story structures with linear, L or U-shaped layouts, ranch homes feature large windows that convey abundant light. Interiors flow effortlessly, and there is a natural transition between the indoors and outdoors. In its most basic form, this style of residential architecture became popular across the United States after World War II. By the 1960s and 70s, ranch style reached more extravagant levels, often featuring sunken living rooms and cathedral ceilings.

High-Value Updates for the Modern Ranch House
Do you own a ranch house and love its midcentury vibe yet feel like it needs to be brought into the 21st century? There are many upgrades you can make that will preserve your home's original style while making it more livable and attractive by modern standards. When undertaking a home renovation project, first consider your goals and budget. The most simple upgrades to your ranch home include improving curb appeal, outdoor spaces and repainting throughout the interiors, or you might decide to go for a full on renovation that alters your home's structural layout or even expands it with an addition.
Upgrade Your Home's Entrance
For instant gratification, start with modernizing your ranch home's entryway. A fresh coat of bold, glossy paint on the front door makes a big impact, but also consider other updates such as new house numbers, a new mailbox and modern outdoor light fixtures. Planters flanking each side of the front door can cultivate a welcoming feel. When selecting colors and materials, take cues from your home's existing exterior palette as well as its landscaping and natural surroundings.




Improving Curb Appeal
Curb appeal is essential if you are looking to sell your ranch home, but any homeowner will feel a sense of pride in knowing their house is impressive to passersby. Beyond the front door, consider repainting your house's entire exterior or, if you have a brick ranch house, perhaps it's time for a good power wash. Upgraded entry pavers and landscaping will make a significant difference in your home's perception. For this rustic ranch in Oakland, California, which borders a regional park, we opted for lush and low-maintenance native plantings to better integrate the house with its context.
Interior Design Ideas for Ranch Houses
Thanks to their open layouts, ranch homes can feel effortlessly modern even by today's standards. However, if your home hasn't been upgraded much since it was built or has suffered from misguided 1980s or 90s renovations, you might have your work cut out for you. Surface improvements like repainting are relatively inexpensive, but you should also invest in details, such as iconic furnishings and eye-catching light fixtures.
Surface Upgrades
Remove any outdated or damaged wallpaper and decide on a cohesive color scheme for your house. Over time many ranch homes end up with different paint colors in each room; instead, opt for a neutral color such as an off-white shade you can implement throughout to emphasize the open flow and abundant natural light.
Popcorn ceilings were a prevalent feature in homes built as late as the 1990s. These can be scraped off or covered with drywall or wood ceiling planks. Please keep in mind that homes built prior to 1980 may contain lead paint and/or asbestos, so it's important to consult professionals and conduct testing prior to undertaking any DIY projects.


Great Rooms and Dining Areas
Ranch homes often feature large great rooms that open directly into dining areas. These are typically the first spaces your guests will encounter and also the areas in which your family will spend the most time. Coordinating wall finishes, furnishings and fixtures will help these spaces feel unified and elegant. One way to delineate the dining area within an open living space is to hang a show-stopping series of pendants or a statement chandelier, such as this organic de- sign shown in a dining room.


Period-Appropriate Furnishings and Decor
When it comes to furnishing your ranch-style home, opt for a mix of vintage pieces alongside modern counterpoints. Iconic seating and furniture from the heyday of ranch houses include bent cane chairs and tables as well as pieces featuring rattan and wicker. Natural materials were emphasized throughout midcentury modern design, with an abundance of wood surfaces and earthy materials like grasscloth wallpaper, textured rugs and other cozy textiles. To maintain a welcome contrast, mix in upgraded stainless steel kitchen appliances, sleek light fixtures and other modern-day comforts.

Adding a Home Addition
While many ranch homes are spacious, others have modest footprints. Those of us who work from home or have growing or extended families could benefit from some additional space. If you have a large enough lot, an expansion to your ranch-style house might be the best solu- tion. Hire an experienced architect or design professional to maximize the additional space while complementing the existing form and style of your home.
Improving Energy Efficiency
Many ranch homes feature large, double-hung windows; however, they are often single pane. Installing new double-pane windows can make your ranch-style home much more energy effi- cient. When you are upgrading your windows, consider period-appropriate casement styles while also keeping an eye towards refreshing your home's exterior.
Iconic California Ranch House Design
California is home to a unique collection of modernist-style ranch homes, including those de- signed by architects Joseph Eichler and Cliff May. California ranch homes in particular are known for taking advantage of the year-round temperate climate by emphasizing a strong con- nection between indoor and outdoor living areas. California ranch design is surely responsible for the resurgence of interest in ranch-style homes across the country in recent years.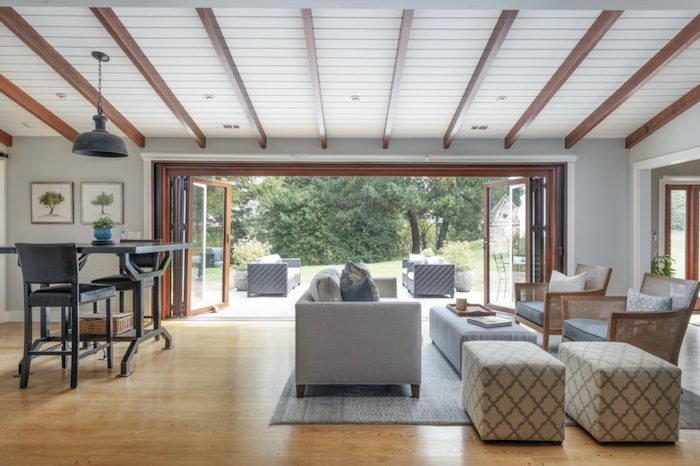 Saikley Architects was privileged to complete a remodel to a timber frame and adobe brick house originally built from a design by Cliff May. The house was modernized while preserving its original details and character.


Outdoor Living and Landscaping
You should not hesitate to take cues from California's focus on outdoor living for your own ranch home, no matter where it is located. An over-exposed and under-utilized patio can easily be transformed into a cozy exterior living room with a covered porch, outdoor kitchen and media center. If your ranch home features an in-ground pool, develop a landscaping plan that cultivates privacy while creating a relaxing getaway in your own backyard.


Hiring the Right Team for Your Modern Ranch Makeover
Any home renovation project can feel daunting, but by hiring an architect experienced in renovating ranch houses, you can rest assured that your midcentury time capsule will emerge as an icon of modern ranch house design. Experienced architects and designers will have a network of local builders and other professionals at the ready to transform your family's needs and ideas into a modern version of Cliff May's post-war American dream home.
Ready to hire an architect? Contact us today.
Contact Saikley Architects