We were featured in Houzz (Decluttering and Sheltering at Home)
Houzz Article: 7 Ways to Declutter Your Home as You Welcome Fall
We were one of 7 architects and/or builders featured in this article. Thanks Houzz!
Creating A Permanent Place for Things – Artist's Victorian
Designer: Alexandra Sheets Saikley of Saikley Architects
Location: Alameda, California
Project Details: This beautiful 1881 Alameda Victorian cottage, wonderfully embodying the Transitional Gothic-Eastlake era, had most of its original features intact. Our clients, one of whom is a painter, wanted to preserve the beauty of the historic home while modernizing its flow and function.
From several small rooms we created a bright, open artist's studio. We dug out the basement for a large workshop, extending a new run of stair in keeping with the existing original staircase. While keeping the bones of the house intact, we combined small spaces into large rooms, closed off doorways that were in awkward places, removed unused chimneys, changed the circulation through the house for ease and good sightlines, and made new high doorways that work gracefully with the eleven foot high ceilings. We removed inconsistent picture railings to give wall space for the clients' art collection and to enhance the height of the rooms. From a poorly laid out kitchen and adjunct utility rooms, we made a large kitchen and family room with nine foot high glass doors to a new large deck.
We are excited to be featured. See our Artist's Victorian project on Houzz here.
See our featured image below.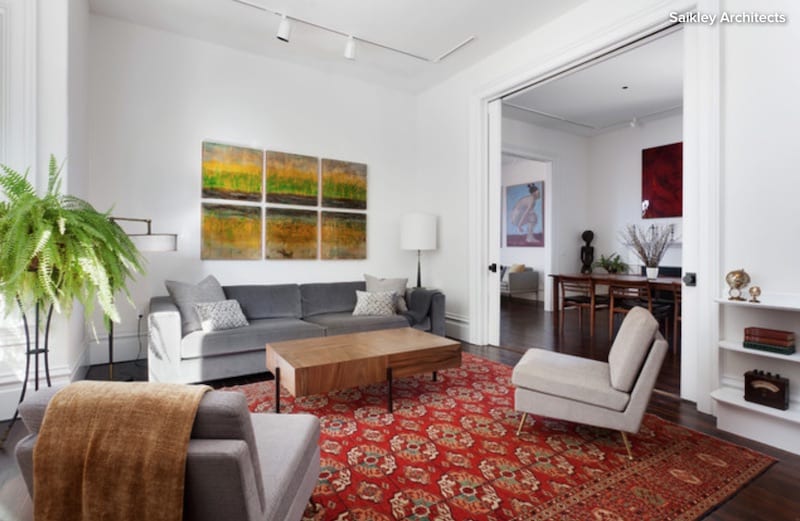 View the original article on Houzz
Saikley Architects is a holistic SF Bay Area architecture firm. Saikley Architects has done over 300 projects in 35 cities in the San Francisco Bay Area. Our design spans modern to historic; single family homes, multi-family, childcare centers, commercial and industrial site development. Our architectural firm is located in the SF Bay Area in Alameda, California.