Digging out: ADU under classic Victorian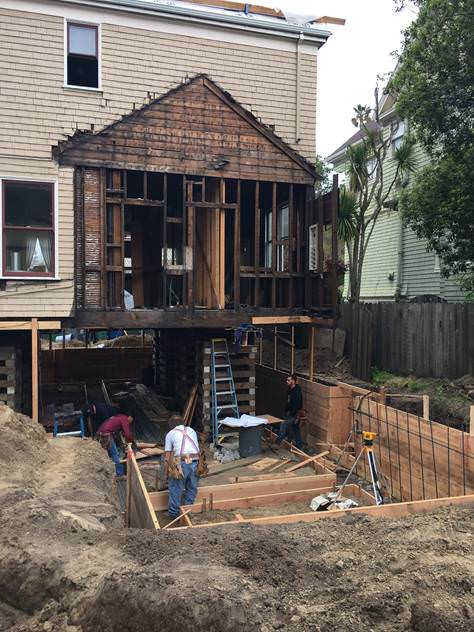 Alameda Architecture: Spring is here and construction is under way on this renovation to this beautiful Victorian home, originally designed by developer and architect Joseph Leonard in the Leonardville neighborhood of Alameda.
Our clients, a family with six children, grew up in this house. As such, they have close ties in the community and a strong emotional attachment to this house. We are renovating and updating the original house, making repairs and making it more useful and flexible for the family's current lifestyles. At the same time original details and structure of the house are being preserved, both for the integrity of the house and the owners' personal memories.
Underneath, we have dug down to gain a full floor of additional living space for a large two bedroom, two bath Accessory Dwelling Unit (ADU), which gives options for rental income or additional living space for the extended family, and making the house a better financial asset.
Lightwells alongside the house allow for normal-height windows to bring light and openness to these rooms, while leaving the original house at its original height above the ground. The digout goes past the building at the back to create a private lower patio for the ADU, extending their living space outside and washing the interior with light from French doors and windows to the patio. Stairs from the patio to grade and a side path give the ADU an entry that feels separate from the main unit's space.
View other featured projects by our SF Bay Area architects.
Written by Alexandra Saikley, AIA Alameda Architect