We were featured in Houzz Bathroom Design
Houzz Article: 5 Bathrooms With a Curbless or Low-Curb Shower
If you are choosing between a curb vs curbless shower these 5 designs might help. We were one of 5 architects and/or builders featured in this article. Thanks Houzz!
From the article:
Curbless With Natural River Rocks
Designer: Alexandra Sheets Saikley of Saikley Architects
Location: Mountain View, California
Size: 89 square feet (8.3 square meters); 8 feet, 5 inches by 10 feet, 7 inches
Homeowners' request. A main-bathroom sanctuary with a Japanese soaking tub.
Shower entrance. No curb. The floor tile, composed of natural river rocks, continues seamlessly from the main bathroom area into the large shower.
Other special features. Japanese soaking tub. Porcelain 12-by-24-inch wall tiles that mimic travertine.
Designer tip. "Keeping a small space simple makes it feel more spacious," designer Alexandra Sheets Saikley says. "Vaulting the ceiling opens up the space. We used prefabricated scissor trusses, which didn't add cost to vault the ceiling."
"Uh-oh" moment. "The height clearances were very tight for getting drainage from the shower and adjacent deck to work over the living space below, while making sure the whole thing was very well waterproofed," Saikley says. "There was some coordination between these issues and structural issues that had to be worked out during construction."
We are excited to be featured. See our Modern Mediterranean project on Houzz here.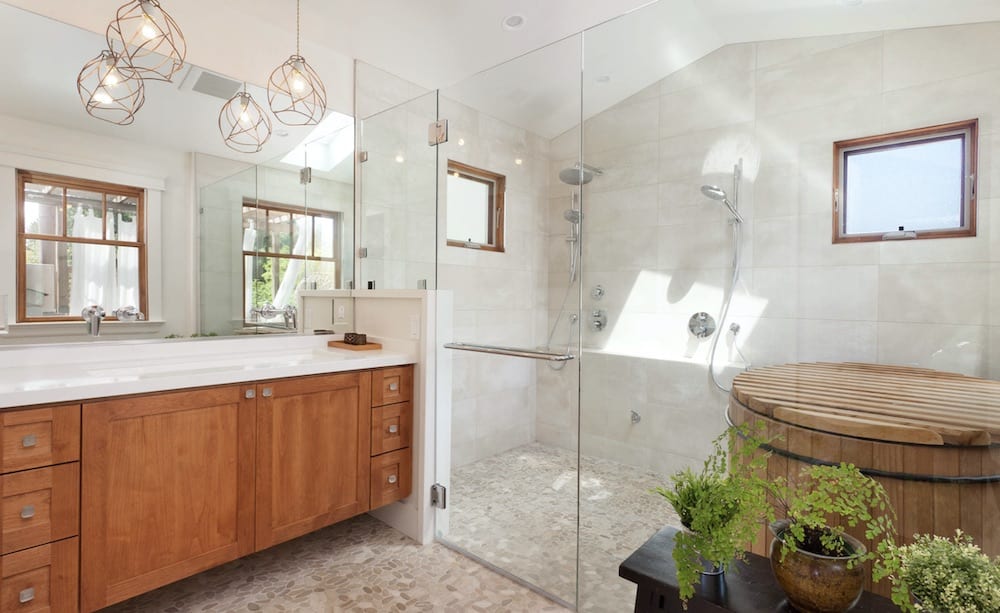 View the original article on Houzz
Saikley Architects is a holistic SF Bay Area architecture firm. Saikley Architects has done over 300 projects in 35 cities in the San Francisco Bay Area. Our design spans modern to historic; single family homes, multi-family, childcare centers, commercial and industrial site development. Our architectural firm is located in the SF Bay Area in Alameda, California.